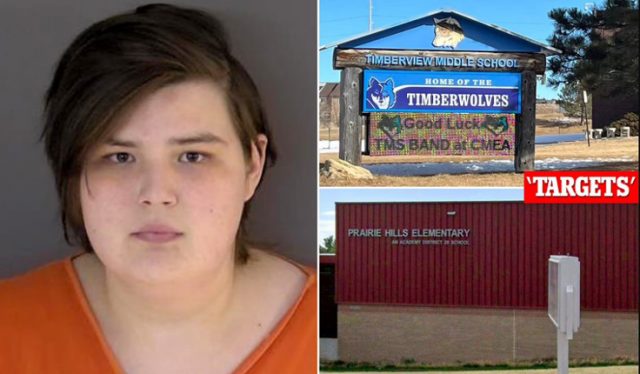 A transgender teen is in custody after authorities say they recovered a manifesto detailing her plan to attack three schools and churches in Colorado just four days after Audrey Hale murdered six people at the Covenant School in Nashville. 
William Whitworth, 19, who goes by the name Lilly and is referred to with female pronouns in arrest documents, was arrested on March 31. She was a student in the school district that she planned to attack between 2014 and 2016, authorities say.
In a manifesto that was recovered in her home, Whitworth called Columbine killers Eric Harris and Dylan Klebold 'losers,' said that Sandy Hook shooter Adam Lanza was 'smart' and that ex-President Donald Trump was a 'con man.' She was also in possession of The Communist Manifesto. 
The suspect is charged with two counts of criminal attempt to commit murder in the first degree, criminal mischief, menacing and interference with staff, faculty or students of educational institutions.
Police were called to Whitworth's home by the suspect's sister who reported that the suspect was exhibiting violent behavior and making threats. Someone at the home told responding officers that Whitworth was 'very upset' and had 'punched holes in a wall.'
A spokesperson for he 18th Judicial District Attorney's Office told the Colorado Springs Gazette that Whitworth is in the process of transitioning from male to female.
All of the schools targeted by Whitworth have an armed school resource officer on campus who is a member of the Colorado Springs Police Department.
DailyMail.com has learned that Whitworth's mother is registered homeschool teacher in the district.
The officers who went to the suspect's home said that Whitworth was drunk, sitting on her bed, which had brown stained sheets.
When asked if she planned to shoot up a school, she responded with a head nod, it is claimed. When asked why she wanted to do it, Whitworth allegedly replied: 'Why does anyone do it?'
'Once entering the home there was trash piled up all around the house to where it made it hard to walk inside. There were numerous containers filled with half eaten food with mold growing inside and numerous alcoholic beverage containers laying around the house,' one section of the arrest affidavit reads.
Whitworth said that there was 'no specific reason' that she wanted to shoot up Timberview Middle School, a school where she was once a student, according to cops. She is said to have referred to Timberview as her 'main target.' 
She attended the school between August and October 2016. In total, Whitworth spent just nine months in the school district that she was targeting.
Investigators searched the home and recovered Whitworth's four page rambling manifesto and a floor plan that was written on a dry erase board. Nearby, a notebook with a list of names was recovered.
The suspect said that she had been planning her attack for the past two months, it is claimed. Among her alleged materials that police recovered were details on how to create and detonate bomb, as well as a list of guns and how to 3D print them.
Police did not recover any guns at the home but did find firearm cleaning supplies.
When asked by investigators if she was schizophrenic, Whitworth reportedly answered: 'I hope not.'
Authorities recovered a copy of The Communist Manifesto by Karl Marx and Friedrick Engels among Whitworth's possessions.
'There's a page in my manifesto and there's a bunch of mass killers,' Whitworth said when asked how much she knew about other shootings.
In that section, the suspect said that the Columbine shooters were 'losers' and that Sandy Hook shooter Adam Lanza was 'smart.'
She also called far-right YouTuber Lauren Southern 'pathetic,' and left wing vlogger Vaush a 'terrorist.' Whitworth also called serial killer Israel Keyes a 'degenerate' and made disparaging remarks about police.
The home where she was arrested is a five bedroom house that sprawls across nearly 4,000 square feet.
Whitworth is being held on a $75,000 and will make her first appearance in court on May 5.