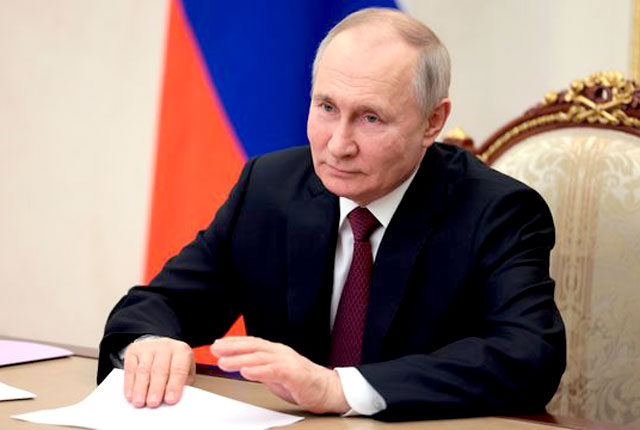 Russian President Vladimir Putin hailed Moscow's deepening political and economic relations with China and hit out at the West for trying to contain the two countries' development, while Chinese leader Xi Jinping stressed that their relations aren't directed at third parties on the eve of his visit in Moscow.
In an article for the Chinese Communist Party's flagship newspaper, People's Daily, Mr. Putin wrote that the two nations are "standing on the brink of a new era."
"The Russia-China relations have reached the highest level in their history and are gaining even more strength," Mr. Putin wrote in the article, which was published by the Kremlin late Sunday. "They surpass Cold War-time military-political alliances in their quality, with no one to constantly order and no one to constantly obey, without limitations or taboos."
Mr. Xi, writing in the Kremlin's newspaper of record, Rossiyskaya Gazeta, clearly showed a desire to further deepen economic cooperation with Russia but fell short of signaling an aspiration for a formal alliance with Moscow as some Western governments had feared.
The Chinese leader wrote that the two countries' relations are based on the principles of "nonalignment, nonconfrontation and nontargeting of third parties."
"My upcoming visit to Russia will be a journey of friendship, cooperation and peace," he wrote in an article published several hours after the Kremlin published Mr. Putin's words. "The two countries firmly support each other in following the path of development according to national realities."
Mr. Xi's visit, which begins Monday and ends Wednesday, showcases Beijing's support for Moscow amid escalating East-West tensions over the war in Ukraine. Messrs. Putin and Xi have long shared the view that the U.S. has sought to contain their global ambitions, a vision that has increasingly underpinned their countries' relations.
But the visit also makes plain the contrast between Beijing's emboldened geopolitical ambitions and Russia's embattled economic and political standing in the world. Beijing has thrown an economic lifeline to Russia amid Western sanctions, buying up its oil and gas and supplying it with microchips and other advanced technologies that can have military uses.
Hanging over the meeting is the arrest warrant that the International Criminal Court issued for Mr. Putin and another senior Kremlin official accused of war crimes linked to Russia's forced deportation of children from Russian-occupied areas of Ukraine. The warrant was issued on Friday only hours after Moscow and Beijing confirmed Mr. Xi's trip.
Late Saturday and in the early hours of Sunday, Mr. Putin visited the occupied Ukrainian port city of Mariupol, a day after he visited Crimea, which Moscow has occupied since 2014, in a signal that he continues to pursue what could be a protracted conflict.
In his article, Mr. Putin sought to portray Russia's invasion of Ukraine as a conflict inflamed by the West.
"The crisis in Ukraine, which was provoked and is being diligently fueled by the West, is the most striking, yet not the only, manifestation of its desire to retain its international dominance and preserve the unipolar world order," Mr. Putin wrote.
Mr. Xi, who is seeking to carve out a role for himself as peacemaker in the conflict, mentioned the war several times in passing. He wrote that a 12-point peace plan put forward by Beijing "takes into account the legitimate concerns of all parties and reflects the broadest common understanding of the international community on the crisis."
The Chinese leader plans to speak with Ukrainian President Volodymyr Zelensky for the first time since the start of the war after his trip to Moscow, The Wall Street Journal has reported, but European capitals and Washington have so far greeted Beijing's diplomatic push with skepticism.
After decades of rivalry and mutual suspicion, China and Russia have in recent years expanded their strategic and economic partnership. A driver of those ties has been the close personal relationship between the two leaders—Messrs. Xi and Putin have met 39 times since 2013, the year after Mr. Xi took power.
When Mr. Putin visited China in February 2022 to attend the Winter Olympics, weeks before Russia invaded Ukraine, Moscow and Beijing said they struck a "no-limits" partnership.
On Sunday, Mr. Putin wrote that "this landmark event reaffirms the special nature of the Russia-China partnership, which has always been built on mutual trust, respect for each other's sovereignty and interests."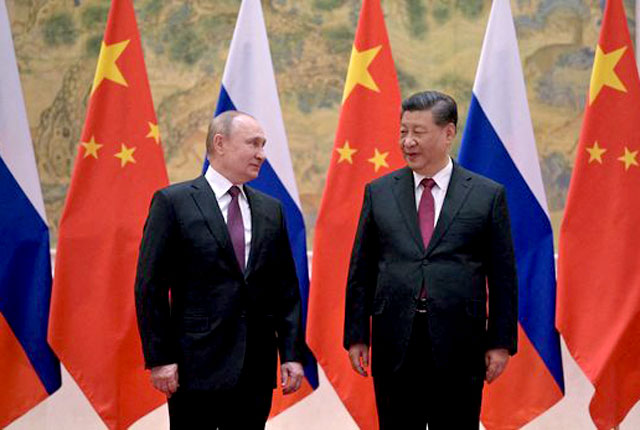 His first international visit this year, Mr. Xi's Russia visit comes amid strained relations between China and the U.S., which has been increasing pressure on Beijing over its stance on Ukraine. American officials have said that China was considering providing arms to Russia, and warned Beijing against doing so.
China, for its part, has criticized the U.S. for exacerbating the conflict by supplying weapons to Ukraine and has sought to occupy a middle ground in the conflict. Chinese officials have also declined to criticize Russia's invasion, instead describing the war as the "Ukraine crisis" and portraying the U.S. as the chief instigator of the conflict.
For his part, Mr. Putin said he appreciated China's "the well-balanced stance" on Ukraine.
"We welcome China's readiness to make a meaningful contribution to the settlement of the crisis," he wrote in his Sunday article.
He claimed that the West was aiming to restrain Russia and China by "persistently working to split the common Eurasian space into a network of 'exclusive clubs' and military blocs that would serve to contain our countries' development."
"This won't work," he wrote.
During the visit, the two leaders will discuss Ukraine, military-technical cooperation and energy trade, the Kremlin said Friday. Several bilateral documents will be signed, it said.
The economic relationship received a fillip amid the war in Ukraine. Trade between Russia and China reached a record last year at $185 billion, Mr. Putin wrote, saying it was on track to hit $200 billion this year.
That trade relationship has become critical for Moscow after the West imposed sanctions last year. China's increased purchases of Russian energy helped to offset some of the declines in Moscow's oil and gas exports to Europe, previously its biggest market.
In his article, Mr. Putin listed growing areas of economic collaboration, including energy sales, Russia's building of nuclear power units in China and industrial and agricultural projects. He also said that the share of settlements in national currencies in bilateral trade is growing, a nod to the increased role of China's yuan in the Russian economy.
But as the economic relationship has deepened, long-simmering concerns remain in Russia that it could become captive to China's economic orbit.
China's much-larger economy gives it greater leverage in trade relations. Western sanctions have amplified the inequality. While trade with China has become crucial for Russia, it represents only a quarter of the value of imports and exports between China and the U.S.
By Georgi Kantchev and Evan Gershkovich
The Wall Street Journal