Performers and LGBT+ authors challenge a 'heteronormative culture that dominates education', claim members in vote
Drag queens should be invited into schools to make them more inclusive, the UK's biggest teaching union has said.
Members of the National Education Union (NEU) voted to support LGBT+ initiatives including drag queen storytime and inviting LGBT+ authors to speak in schools at the union's annual conference in Harrogate on Wednesday.
They said that the activities would help to challenge the "heteronormative culture and curriculum that dominates education".
Teachers voted through the motion after Shelby Millard, a teacher working at a secondary school in Sutton, Surrey, told delegates that Rishi Sunak "is supporting the far-Right attacks on drag queen storytime" and "the murder of beautiful souls like Brianna [Ghey]."
Two teenagers were charged in February with the murder of transgender teenager Brianna Ghey, who was found with stab wounds in a park.
The union later issued a statement saying that Ms Millard "unreservedly apologises for the wording of her conference speech" after she met with NEU officials. 
An NEU spokesperson said: "She apologises and withdraws the specific allegation that Rishi Sunak supported the murder of a young trans girl. Many trans and non-binary teachers feel strongly that the Government is not doing enough to support them but it is essential that we always debate policy solutions in calm and measured ways."
NEU members agreed that the Government is "creating a hostile environment" for trans people by blocking Scotland's gender reform plans to allow people over 16 to change their legal sex by signing a statutory declaration.
This has "encouraged the far-Right to organise further attacks on drag queen storytime and has created an atmosphere where hate crime can thrive," they said.
MPs and groups such as the Women's Rights Network have raised concerns that drag queens provide sexualised adult entertainment that is not suitable for children.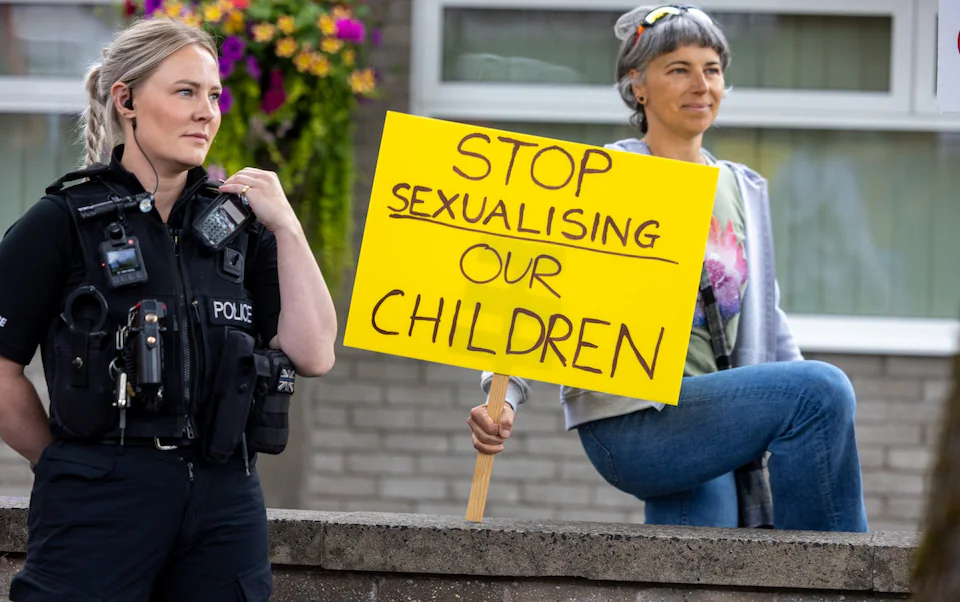 Miriam Cates, Conservative MP, said: "It is highly concerning that the NEU is endorsing the exposure of young children to drag queens dressed and performing in a highly sexualised way in the supposed safety of the classroom. I can't believe that most teachers or parents would support this and I would urge the NEU to revisit some basic safeguarding principles."
Tanya Carter, from Safe Schools Alliance, said: "NEU's persistence in abandoning established safeguarding the minute they are distracted by glitter and rainbows brings the entire teaching profession into disrepute. This is an insult to our members and all other teachers who work incredibly hard to protect children."
The NEU will encourage all schools to set up LGBT+ spaces after the motion was voted through on Wednesday.
Members said that the spaces should allow trans pupils to "speak, discuss and explain their thoughts, feelings and experiences without fear".
The union claimed that nearly 20 years after a ban on the promotion of homosexuality by local authorities and schools under Section 28 of the Local Government Act 1988 was lifted, that "too many students still go through an education experience which isn't LGBT+ inclusive."
'Equality framework protects everyone'
Dr Mary Bousted, joint general secretary of the NEU, said: "Inclusive teaching is essential for students who are LGB, trans or non-binary, and has also been shown to bring many benefits for all students.
She added: "The Government is seriously failing to support trans people which means the creation of LGBT+ spaces and networks in schools and colleges is now more necessary."
A government spokesman said: "We took action on this [Scotland Gender Recognition Reform] Bill because it has real implications for how these issues are treated on a UK-wide basis.
"This includes impacting single-sex spaces and services, and the creation of two gender recognition regimes in the UK.
"We have a long established UK-wide equality framework that protects everyone – including transgender people – from discrimination, harassment and victimisation and advances equal opportunity for all."