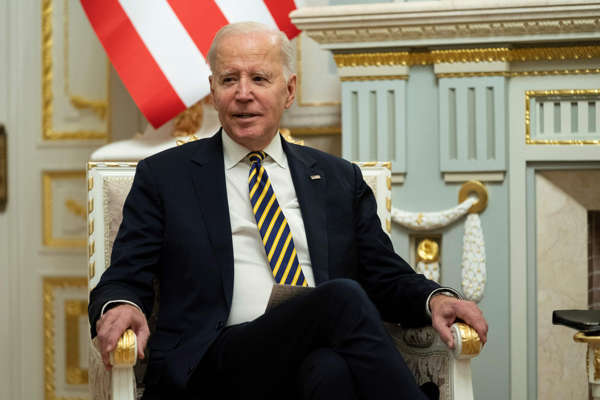 BY BRENDAN COLE 
Aformer adviser to Vladimir Putin has blamed the war in Ukraine on comments Joe Biden made to the Russian president 13 years ago.
Political analyst Sergei Markov made the remarks during a discussion on the YouTube show Ostorozhno Sobchak (Beware Sobchak), which is hosted by journalist and TV personality Ksenia Sobchak.
In a clip, tweeted by Ukrainian internal affairs adviser Anton Gerashchenko, the Russian opposition activist Marina Litvinovich described how a "huge number of people" were involved in the war, including Ukrainian civilians, military, and "unborn children."
Markov interrupted to say "the war must be stopped immediately," and that "Joe Biden is the real guilty party in starting this war."
"This is a personal war of Joe Biden who hates Putin," according to Markov, because when Biden "came here in 2010, he said, 'Vladimir Vladimirovich, we advise you not to run in the elections.'"
After serving the two consecutive presidential terms allowed under the Russian constitution at the time, Putin stood aside in 2008, paving the way for Dmitry Medvedev to become the head of state.
After four years as prime minister, Putin became president again in 2012. The constitution has since been amended to allow Putin to potentially remain as president until 2036.
According to Markov, when Biden was the vice president under Barack Obama, he told Putin "'for the third term, give Dmitry Anatolyevich (Medvedev),'" the presidency. Markov added that Putin had "told him off" but Biden "started hating him."
Sharing the clip of Markov's remarks, Gerashchenko wrote, "Russian propagandist says the war in Ukraine is Joe Biden's fault—because, according to the propagandist, Biden hates Putin for not following his advice in 2010."
"Geopolitics, Russian propaganda style. And nothing is ever their fault," he added.
Markov is a professor of political science at the Moscow State Institute of International Relations. This week, he suggested that Russia had, in essence, allowed Biden's surprise visit to Kyiv to meet his Ukrainian counterpart, Volodymyr Zelensky.
He told the Russia 1 channel that Biden had received "security guarantees" from Moscow "because we keep our word and are on the side of good and of civilization." During his visit to Kyiv, Biden reaffirmed U.S. commitment to providing Ukraine with military and financial aid.
However, Biden told ABC News that he was ruling out "for now" the U.S. provision of F-16 jets to Ukraine, which Kyiv has been calling for.
He said that Zelensky "needs tanks, he needs artillery, he needs air defense, including another HIMARS." Ukraine has been calling for more weapons, like NATO jets, to fight Russian aggression. Biden told the news network that "there is no basis upon which there is a rationale, according to our military now, to provide F-16s."