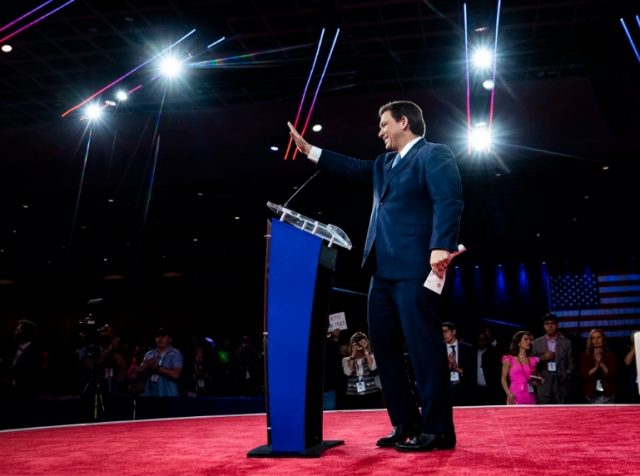 By Natasha Korecki and Jonathan Allen
Many of the Republican Party's marquee players — including Florida Gov. Ron DeSantis, former Vice President Mike Pence and the top GOP leaders in Congress — will skip this week's Conservative Political Action Conference in Maryland, dealing a significant blow to the annual gathering's stature.
The abandonment of CPAC, which runs from Wednesday through Saturday, comes as its chairman, Matt Schlapp, defends himself against a lawsuit alleging that he fondled a male aide to then-Senate candidate Herschel Walker in Georgia in October, without the aide's consent.
In a filing in a Virginia court this month, Schlapp's lawyers wrote that he denies having committed sexual battery.
Despite the mass exodus, the party's most dominant figure — former President Donald Trump — plans to speak at the conference late Saturday afternoon, according to his spokesman, Steven Cheung.
None of the politicians declining to attend have cited the allegations as the reason for their absence, but several Republicans who spoke on the condition of anonymity said it is a factor in the broader movement away from the conference.
A source familiar with Pence's decision did not say it was based on the lawsuit against Schlapp but added, "Most principals are increasing their distance because of that, because of those allegations." Another source whose clients had previously attended the conference said they have specifically cited the Schlapp allegation as a reason they wanted to distance themselves this year.
There is a sense among some Republicans that the conference was becoming more of a chore in recent years, said a veteran GOP operative who is not attending this year and asked to remain anonymous to speak candidly.
"Someone said to me, 'We all wanted an excuse not to go, and Schlapp gave it to us,'" the operative said.
DeSantis, who has been in demand across the country as he appears to be gearing up for a potential 2024 presidential campaign launch, will be in Texas for GOP dinners in Houston and Dallas, as well as in California.
"He will not be at CPAC," the source with knowledge of the schedule said Monday.
The list of luminaries skipping CPAC is long and prestigious: Republican National Committee Chairwoman Ronna McDaniel, House Speaker Kevin McCarthy of California, Senate Minority Leader Mitch McConnell of Kentucky and Virginia Gov. Glenn Youngkin are among them.
A person familiar with the plans of McDaniel, who has spoken at CPAC before, declined to elaborate on the reason for her absence this year. In the past, the RNC has also been listed as a sponsor of CPAC; this year, it is not.
McConnell, notably, has not attended the event in recent years. The crowd booed him in 2021, when former President Donald Trump took a dig at him in his CPAC speech.
McCarthy will be out of town, an aide said.
The person familiar with Pence's decision said: "There's been a distance between the two entities for a few years now. … Principles and values no longer align."
The conference has long been a way for GOP politicians and movement leaders to reach a large conservative activist crowd — and all the media attention that comes with it.
In recent years, it has been the Trump show. Still, some had speculated that DeSantis could parachute in at the last moment, given a recent penchant to show he can operate on Trump turf. That will not be happening, however.
DeSantis did speak at CPAC last year, when it was in Florida. Pence has not attended since 2020.
Both Schlapp and his wife, Mercedes Schlapp, are named in the lawsuit, which includes allegations that they participated in smearing the man who accuses Matt Schlapp of sexual misconduct.
"As stated in court filings of February 9, 2023, the Schlapps deny the plaintiff's allegations," said Mark Corrallo, a spokesman for the Schlapps. "We will not comment on matters currently pending before the court in Virginia."
Former U.N. Ambassador Nikki Haley, who recently launched her presidential 2024 bid, still plans to attend, an aide confirmed. Other speakers on the agenda include Sen. Ted Cruz of Texas, former Arizona gubernatorial candidate Kari Lake and Rep. Elise Stefanik of New York.
The conservative Club for Growth will hold its annual donor retreat in Florida this week at the same time. DeSantis, Pence, Haley and others are scheduled to speak at that event; Trump is not.