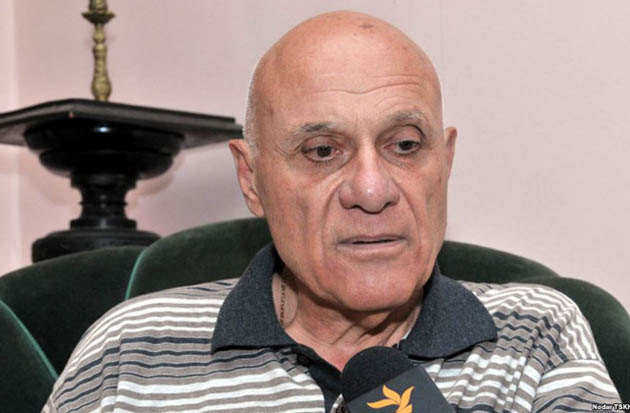 While  the representatives of the government of our country are discussing  the issue of entry or non-entry of the opposition in the parliament and the legitimacy of the elections with  the so-called facilitators, Russia has recalled its  ambassador from the United States, Armenia will receive Russian natural gas and oil products via Azerbaijan, Turkey opens railway corridor with Russia via Armenia, China holds talks with Central Asian states on opening military bases… Political expert  Soso Tsintsadze discusses with us  the ongoing processes in the Transcaucasia, lack of attention  to these processes in the country and the indifference of the Georgian television space to the geopolitical situation:
_ The Georgian government does not understand what is happening in our neighborhood. Transcaucasia is busy solving important problems while our government, law enforcement agencies and TV companies are discussing  Gogi Tsulaia's sexual needs. I hope to God, Georgia will not  have to talk and think about more than Tsulaia's affairs, but this is not the case. Two days ago, the World Happiness  Report  was published, in which Georgia ranks somewhere at the bottom, among the unhappy countries, along with the African states. Happiness does not mean the death of a loved one, fire, earthquake. The Gallup Institute studies  the general condition of nations and it was found out  that only ten percent are unhappy in Finland and only ten percent are happy in Georgia. The initiators of the study also name the reason for happiness – people in Finland are happy because they trust the government and it makes them happy. Georgians, on the contrary, are unhappy because of the government.
Very big geopolitical shifts are ongoing in the Transcaucasia. To put it bluntly,  big countries are redistributing  small countries among each other. Politicians say – "Never say never!" We see how Russia and Turkey, Armenia and Azerbaijan, Armenia and Turkey contact with each other,   which until now seemed unbelievable, but Georgia does not collaborate with anyone.
Thanks to the feeble government, Georgia is gradually being left without an ally. We do not have a strategic ally who will fight for us.
_ Mamuka Khazaradze, the leader of the party "Lelo" sends a letter to the Americans and asks for help. Is America the country we should hope for and which will fight for us or solve domestic policy problems for us?
_ No, America will not fight for us, nor will it interfere in the domestic affairs of our country if its interests are not pursued.
We saw that America did not do anything good for us in the 2008 war. The Americans sent a ship to help their beloved and favorite president, Saakashvili to demonstrate force and nothing else. Such demonstrations of force took place in the 19th century, when Russia threatened Turkey and Britain sent ships  ostensibly to intimidate Russia.
They say that Georgia's geopolitical situation is challenging today, it is distressing  to watch the ignorance of our government,  we are almost  comatosed, but sometimes even a dead can bestir.
_ The government is obliged to make smart decisions, we have no allies. Often, when we Georgians were undergoing ordeals, we remained alone, as it is now. May be our domestic problems have nothing to do with global politics, but I must say – what did the Europeans do when they arrived  to reconcile the government and the opposition ?!
_ After Donald Trump left the post of the US President, both Europe and America found themselves at a crossroads. Joe Biden has decided to return to the old, liberal principles that have confused the world. What Trump has turned a blind eye to, Biden attaches great importance and calls  the killers the leaders of the world's largest and leading countries. Biden will  follow this path, but Europe is not violating its  principles and is following a path that is in its  interests, and its  interests include good relations with Russia.
_ If Georgian diplomacy were up to the challenge, if we had the knowledge, our country would be in a much better situation. If Georgia had been a mediator between Azerbaijan and Armenia, we would only have won; we would not have lost in any case.
I talk about diplomacy constantly, but diplomacy does not need to analyze the ongoing processes in the neighborhood and advance the role of our country, it needs patriotism. You just have to love your country  and understand what you have to do.
Unfortunately, the members of our government have neither diplomatic knowledge nor love for the homeland. When there are really serious shifts around you in your neighborhood, both the wolves should be  full and the sheep be  whole. Such a policy was constantly pursued by Shevardnadze, who arrived in Moscow and said the first toast on the birthday of the Russian president, but the next day, returning to Tbilisi, said that soon NATO will knock on the door. He used to play  putting the eggs in all baskets at once.
We lack patriotism. When the question arises – money or patriotism, we, unfortunately, prefer money. Georgia no longer has patriots like Zviad Gamsakhurdia or Tsotne Dadiani…
A young woman died from the vaccine   and the health minister said: we have a task and the vaccination should continue. Our Minister of Health and, in general, the ministers are performing the  tasks that were not given by  the Prime Minister of the country. However, we know very well that the head of the government, the Prime Minister should  give  the task to a minister.  Do you see what's going on here?!
_ A lot of things are happening around Georgia, but not a minute is devoted to this news on TV. As you mentioned at the beginning of the interview, only Gogi Tsulaia's sexual needs and like issues are discussed – what is the problem with Georgian TV channels and journalists working there?
_ This is the problem with not only with TV but with all spheres and with  the government in this case, – there is an extreme manifestation of provincialism in Georgia. The civil war in Georgia leveled  all areas, including television. The hatred that was sown then continues to this day.
To tell you the truth, even if they call me to a TV, I will not go, because I am not shill, I am neither a "Natsi" nor a "Kotsi", so I cannot say anything interesting for them. I know for sure that if now I make a some so-called scandalous statement in an interview with your newspaper, I will be the center of attention, but that is not my goal, the scandal does not appeal to me,  but if the debate is held at a high level, on big politics, then I will definitely involve. Unfortunately, there are no such shows in our TV space.
I often watch Russian TV channels, I subscribe to the Russian press, where you can read very interesting information. However,  you cannot read anything interesting in our press nor you  can hear or watch on TV, and I dare to say that Georgian journalists are bought and sold, we do not have high-qualified  TV journalists.
Let's refer again to  the Happiness Index that was recently published. Our nation has not been so "unhappy" even after the Great Patriotic War, at that time our happiness index  was much higher. I remember the statements  of our great scientists, what attitude they had and what great hope they had for the future…
_ What shall we do? How to overcome this deadlock?
_ I will tell you directly: I have high hopes that Russia and Turkey, despite of the current so-called cozy relationship, will never reach an agreement. We are lucky because Russia will never let Turkey into the Black Sea and will never give up on Batumi. Armenians and Azerbaijanis will not  reconcile either. This  is temporary,  this  is  necessary for today.  In the days of the August 2008 war, Turkish ruler Erdogan arrived in Russia, we know what he wanted, but we also saw that Russia did not give us up.
Georgia has a great chance to lose territories, this process has been postponed due to the ongoing changes in the Transcaucasia.  Georgia could not even  turn the Azerbaijanis of Marneuli and the Armenians of Akhaltsikhe into Georgians; we could not teach them Georgian language. This is a problem and so far Russia is protecting us. I do not think that the President of Azerbaijan Aliyev will handle the problem of Davitgareji so silently. He is silent at times because it is so necessary. We will have to fight  and I do not hope we will something demonstrate.
Georgia is vulnerable, we have no military ally. We do not have diplomats, otherwise we could have solved the problem of our closest neighbors without the intervention of foreign countries – both Azerbaijan and Armenia are upset with Georgia, and it is only for the reason that  we do only what a foreign country dictates to us, and they have not advised our government to intervene.
You want to hear some kind of optimism from me, but I cannot say anything like that. I do not see a solution. The Lord will protect us! We Georgians are lucky and our country will be saved independently of us, if we do not get involved in great ignorance and sins.
Interviewed by Eka Naskidashvili