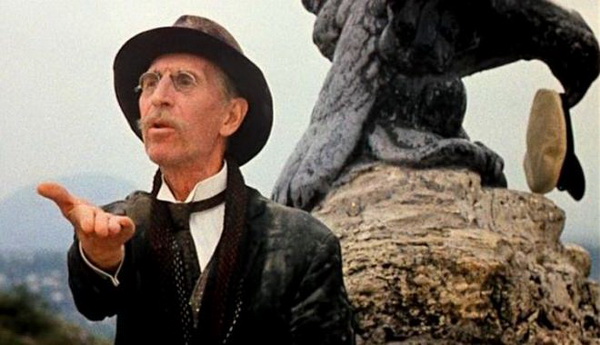 I have often said that I am practically in a boycott regime with Georgian TV media. I mostly use Russian TV channels to get information, and sometimes Georgians, due to my profession, only if necessary, I try to come up with something similar to "common arithmetic" and, one way or another, be aware of how "objectively" Georgian televisions poisoned by Russophobia cover events at home or abroad, except for Valeri Kvaratskhelia's authorial program called "Golden Cross", which, despite its high rating, airs only once every two weeks. What can I do, as one Georgian proverb says, "a single bull is better than nothing at all." This is also the case with the TV program of Valeri Kvaratskhelia – it is better to tell the truth once every two weeks than just telling lies constantly; The truth that the great Ilia said 100 years ago with the content as follows – without a fellow orthodox Russia, the Georgian nation can not only live but it can no longer exist physically, because Georgia needs a strong protector, not a "strategic ally".
Ilia Chavchavadze wrote to the rector of the Tbilisi Theological Seminary Seraphim in 1989, "The traditional mutual love of the Russian and Georgian peoples, is more necessary for us than for the Russians, because this is the only precondition for our prosperity, our salvation." For a large, enormous Russia, the issue of Georgians' love can only be the subject of noble moral care and devoid of any practical significance; Since Russia itself is very strong and powerful and therefore does not need to seek support in sympathy of any small people: I repeat, for us, Georgians, this is the answer to this rhetorical question – who needs the other party more?
Niko Nikoladze, Akaki Tsereteli, Grigol Orbeliani and other true patriots of Georgia were of this opinion. I would also like to quote Grigol Orbeliani here, because what he says responds to our current miserable life with amazing accuracy.
"God, do not make the Russians so desperate that they are forced to leave Georgia, which will soon fall victim to unrest, mutual strife and the attacks of sworn enemies." It was as if the grandson of King Erekle, the great Georgian poet, was looking in the mirror of foresight when he said – because of our greed, the Russians left Georgia and took Sokhumi-Tskhinvali with them accidentally as they say. Over there, our "sworn friend" is involved in the dispute with us over St. David Gareja's Lavra; In Adjara, another of our historical-strategic friends, has practically restored the status of Gurjistan Vilayet and is now keeping an eye on Guria-Samegrelo. Marneuli and Javakheti are waiting for their turn and they may not even need a long wait in the hands of US puppet Liberal government of Georgia.
Here is the result of that, to put it mildly, shortsighted … No, I will say directly, of a treacherous foreign policy, when you make enemy out of a single-faith historical friend, who saved the Georgian nation from physical destruction (not to mention national-cultural identity), and to truly historical enemies who still keep an eye on taking away everything by force, you call friends. Despite the above, what I called historical greed, today's Russia, its president does not consider the Georgian nation and Georgia as enemies. Proof of this is the fact that there are more than a million Georgians living in Russia, legally or illegally, who use the money earned in "occupant" Russia to keep family members and relatives living in Georgia. Not to say that most of the Georgian millionaires have successful businesses in Russia, not to mention that Georgians shine in the occupying Russian elite in art, show business or various fields of science.
In my earlier letters I have repeatedly said that after Vladimir Putin announced to the world at the 2007 Munich summit that Russia had returned to geopolitics, the West, led by the United States, became furious. And when, in 2014 Russia stole Crimea from Kiev- in fact, the United States –  through a filigree military operation, without actually firing a bullet, and joined it to Mother-Russia, the states literally "jumped out of its underwear" and responded this act of Russia with nothing but with useless sanctions.Then, in his speech at the 50th session of the 2015 UN Jubilee, Putin "slammed the door" and the next day, on September 30, it started bombing the positions of the terrorist organization, the so-called Islamic State in the Syrian Arab Republic. This "insolence" by Russia has completely angered the Anglo-Saxons, who, had already made a hanging rope for  Bashar al-Assad, the Syrian counterpart of Iraqi President Saddam Hussein. Then, no matter it is Afghanistan, Syria, Iraq, Ukraine or the likely hot spots in the future, there will be practically the undeclared war of the West against Russia. After the presidency of Joe Biden, the Anglo-Saxons also removed the mask they ostensibly wore, and, as I mentioned in a previous post, today there is a more or less furious undeclared war by all (Liberal Anglo-Saxons) against one (Orthodox Russia). However, why unannounced? The marasmus Joe Biden, who, according to rumors, finds it difficult to find an oval cabinet in the White House without a guide, said that Russia is the enemy not only of the US but also of the civilized (read, LGBT community) world and that the time (Trump's presidency) when Vladimir Putin boasted with impunity, is gone. Joe Biden, in a language that is clearly unacceptable to presidents, practically rebuked Vladimir Putin and, moreover, publicly threatened him that from now on Russia will have to pay a high price for everything that does not fit into the neoliberal ideology of the Anglo-Saxons and demanded categorically the immediate and unconditional release of Alexei Navalny.
It seems that Joe Biden's awkward statement was a kind of artillery training before the trial of Alexei Navalny – the leaders of the leading EU countries also sang "notes on Joe Biden", – claiming that the father of Russian democracy was dying. But who is actually Alexei Navalny? He is very similar to the hero of the genius Russian writers Ilya Ilf and Evgeny Petrov in "12 Chairs", Kisa Vorobyaninov, the "father of the Russian Democracy" and the tragicomic character "especially close to the emperor".
Alexei Navalny is a former blogger and now a person particularly close to the enemies of the homeland, and the leader of Putin's opposition, on whose appeal only a few thousand people tend to come out, which, you will agree is not even a drop in the ocean for 13 million Moscow. Instead, it has more liberal supporters and, consequently, more funders abroad (just like the Georgian opposition). An unprecedented thing happened at the Navalny trial: the trial of a man who was twice sentenced to probation, which is also unprecedented not only in Russian but also in world jurisprudence, was attended by 24 high-ranking diplomats from 20 countries. But these diplomats, left Russia without comment as they arrived without comments. Their visit was considered by Moscow to be a gross interference in the internal affairs of the country. I was looking forward to the court verdict, because in view of all the above, this trial was a kind of test for the Russian judiciary and for Putin personally – would they punish Navalny only symbolically again? – that would mean that Putin could not withstand Western pressure; Would they give a real "sentence" to the "Father of Russian Democracy"? -that would mean that Putin, did not give a fuck to entire liberal West led by the United States and runs his country in a proper way for a traditional state with a great culture. And so it happened – Navalny, in slang, was properly "sentenced", ie. Putin passed the test excellently.
The tough tonality of EU High Representative for Foreign Affairs and Security Policy Joseph Borrell, with which he visited Moscow, has disappeared without a trace, as Russian Foreign Minister Sergei Lavrov gave him a master class on his request to see Navalny and made him the subject of damnation in Europe. The "father of Russian democracy" was hysterical at the trial and called the 94-year-old veteran of the Great Patriotic War, who was agitating for a constitutional amendment in a video clip, a "doll with orders" and a "shame of the people." By this reckless behavior he not only insulted the old veteran, but also the memory of all those killed in the Great Patriotic War. No one can be forgiven for such blasphemy in Russia, for which May 9 is equal to a religious holiday.
David Mkheidze
P.S. "America is back," said Joe Biden. A similar statement was made by Kremlin spokeswoman Maria Zakharova. Gone are the days when Russia was constantly in a state of self-righteousness, from now on, there will be attack at home or abroad, attack and just attack! Let's see who wins. The near future will show this … One way or another, one thing is certain today – Russia will not retreat. Maybe our stupid government will still think about it.