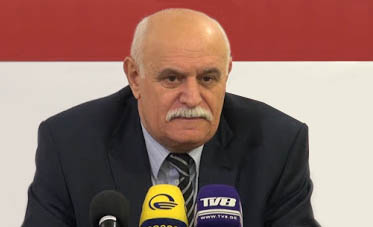 After the NATO summit in Brussels, Belgium, on June 14, Georgian government officials spoke to the media and assessed the statements made by the Alliance leadership. According to the Prime Minister, the fact that Georgia was one of the topics on the agenda of the summit already testifies to the Alliance's unwavering support for the country's sovereignty, and specific messages, which, it seems, refer to NATO's future enlargement and accession of both Georgia and Ukraine, confirm that  cooperation with the military bloc is at an unprecedentedly high level.
The statements of other members of the government, especially the Minister of Foreign Affairs and the Minister of Foreign Affairs, were also optimistic. According to Zalkaliani, at this summit the country once again received a promise that it would definitely become a member of the military bloc. According to him, Georgia is honest with its NATO partners and this is obvious to everyone, because it has 100% fulfilled all its obligations. Before the summit, Georgian officials hoped that NATO leaders would not shy away from making specific hints when discussing Georgia (in particular, the country's accession prospects), although NATO Secretary General Jens Stoltenberg excluded this before the meeting, when announced to journalists that no exact dates would be specified on the summit
What messages received Georgia from the 2021 NATO  Summit  and, how adequate are the assessments made by the Georgian political spectrum immediately after these messages?   Lieutenant General Guram Nikolaishvili talks to "Georgia and the World".
– Mr. Guram, many things  in the Georgian political spectrum were expected from the NATO Brussels Summit. Many suggested that this meeting would have a special significance for us. Perhaps there was an expectation that there would be some specifics on the prospect of Georgia joining the Alliance, but Stoltenberg told reporters before the summit that no dates would be announced for the summit. What messages did Georgia receive from Brussels and what was the importance  of all this for us?
For Georgia as a Euro-Atlantic course-oriented country, which, in my opinion, risks a lot for this course, including to the detriment of its own interests in a number of issues, this was the summit for the summit. It was probably, at least, the hundredth time we have heard what, for years, we have heard that the door to NATO is open, we will definitely be accepted, our contribution to international security missions highly valued, etc. A for the reality that is clear, we were told quite clearly, without any diplomatic subtexts, that we should not expect to name specific dates. Someone will say it is not a rejection and it is just part of the process, but for me it is a rejection. I will tell you more, after this summit and in general, recently it has become clear that not only will things change in the direction of rapprochement with NATO, but it is clearly a step backwards.
– In what sense?
– Georgia, Ukraine and Moldova have attended all summits in the last ten years. We were not invited this year. Moreover, government officials, such as Mr. Zalkaliani, have repeatedly stated that the result of his ministry's serious efforts, serious diplomatic work, is to include the issue of Georgia on the summit agenda. I believe in this. Today, the government is practically fighting to have Georgia mentioned (!) At the NATO summit. By the way, one point is important here: as you know, the EU leadership previously paid an official visit to Kiev and met with the Foreign Ministers of three Eastern European countries: Georgia, Ukraine and Moldova. They drafted a joint action plan and signed a memorandum in which one of the issues along with economic issues is cooperation and deeper action in the field of security. We are talking especially about the Black Sea region … Now why I bring this example: everything that was important for NATO and was led by them, was handed over to the EU, and the EU, in turn, came up with a memorandum to three NATO hopeful, now hopelessly deceived states . Here is their current conjunctural approach to satellite countries. As for the USA in particular, it can no longer control the world as it did 15-20 years ago.
– Does not it have even sufficient  military potential for that?
– As for the military potential, of the 11 aircraft  carriers operated by the US, six are located between Taiwan and Australia. This means that it is oriented to the east. As you know, China has a great desire to unite Taiwan, and strategic cooperation has been established between the United States and Taiwan. Can you imagine what would happen if China, with 2.4 million troops and a huge military industry, struck the US? There will be complete chaos and this will create a huge problem for Washington. These are the main issues for the White House today and that is why it is ending its presence in Afghanistan. However, it is clear that China is not its only problem, Russia is also a serious problem, which is getting stronger day by day and is creating more and more solid preconditions to protect its strategic interests. By the way, in his time Henry Kissinger said that approaching the red lines with Russia would lead to a revival of Russia. It was justified. The sanctions imposed over the last 10-15 years, the political or ideological struggle based on double standards and the tensions in the historical space of Russian influence, have brought the Kremlin back to the international political arena; Returned not as a state in a defensive position, but as a pole.
– What a  reality is created for us by all this?
– Washington is trying to bring tensions with Russia to a state of peace. The Americans do not want the situation to escalate further, and if  happens anyway, the Eastern Partnership countries will act as a test site. Neither Georgia, nor Ukraine, nor Moldova now occupy a place similar to the situation of 10-15 years ago in the recent political plans of the United States. Washington has a serious puzzle, which is primarily due to the irreversible strengthening of China and the fact that it is losing political and economic positions. By the way, according to recent data, China's GDP grew by 18%, and this is while consumer prices in the United States rose catastrophically. I am not saying that countries like India, Russia, Brazil are reducing the share of dollar trade in their economies. For example, years ago if in Russia this figure was 95%, now it is not even 80%. This is what the sanctions have brought, and Europe has already realized that, so the sanctions imposed on Russia over "North Stream 2" have been lifted. Generally, a sanction is a manifestation that you can not find arguments to pay the opponent and talk to him.   
– By the way, the decision to lift the sanctions imposed on "North Stream-2" was made by the United States in a way that is not unknown to the Ukrainian authorities, Zelensky, as they say, learned this story through the media.
– Of course, Washington will not agree on anything with Kiev, as well as with Georgia, the Baltics and others. Moreover, it does not consider their interests at all in his relations with these countries. The result of this is what is happening today in Ukraine  – the armed forces are completely demoralized, there are case of escape from  the army, no one wants to go to war. I am not saying anything about the fact that the army has been raised from 215 thousand to 250 thousand and they do not even have food. NATO and, above all, the United States have, in fact, washed their hands of us; They washed their hands of Ukraine, Moldova and told us, we do not have enough for Russia now, so, whatever happens, this memorandum from us is enough and you yourself must be ready to face it.
– How should Georgia respond to all this if we do not find ourselves in the epicenter of a conflict of interest between the great powers?
– We have talked about this many times and my position remains unchanged. Georgia, in principle, should renounce any alliances at the level of declared policy, I mean military neutrality. Now here may not come out exactly the same neutrality as, say, Switzerland has; It is understandable that it is in a different geopolitical context, but the principle must be impartiality. In other cases, I have said and I will repeat: the great powers will not clash with each other on their territories, they will clash on our territory, just as it did in Ukraine, Syria, etc. Who will be defeated in the end, I think, is easy to guess. Here, it does not understand the people who create the illusion that NATO will accept us; The door is open and we will enter tomorrow or not. Dozens more summits will be held, we will hear the same tales and there will be no real moves. In reality, the issue of implementing all this will never arise . . .
Interviewed by Jaba Zhvania