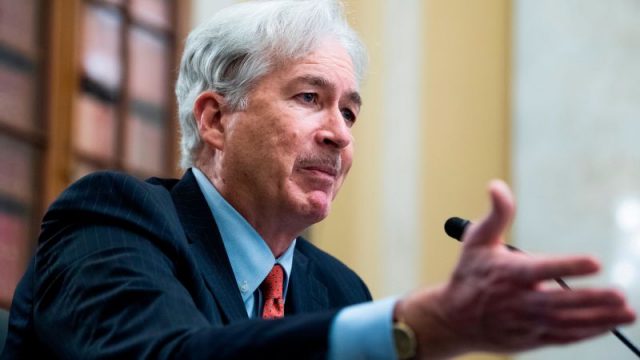 CIA Director William J. Burns was in the U.S. Embassy and was not hurt in the assault, which occurred a day after he met with his Russian counterpart in Turkey
CIA Director William J. Burns met with Ukrainian President Volodymyr Zelensky inKyiv on Tuesday, reaffirming U.S. support for the country on the same day Russian missiles pummeledthe capital andsent residents fleeing for cover.
The visit came at a moment of Ukrainian triumph, days after its forces liberated the city of Kherson and Zelensky declared a turning point in the war. But it was a moment of extraordinary tension and uncertainty, too, as a Russian-made missile appeared to land in Poland, raising the question of how the NATO alliance might respond to a possible attack on a member state.
Burns, whom President Biden often has dispatched to speak with Russian and Ukrainian leaders, also met with his Ukrainian intelligence counterparts and discussed a U.S. warning he had delivered on Monday to the head of Russia's foreign intelligence service "not to use nuclear weapons" in its war on Ukraine, according to a U.S. official who spoke on the condition of anonymity to describe the sensitive discussions.
Burns had met with the Russian official, SVR Director Sergei Naryshkin, in Ankara, the Turkish capital.
In Kyiv, Burns "reinforced the U.S. commitment to provide support to Ukraine in its fight against Russian aggression," the official said. The director was safely inside the U.S. Embassy during the missile strikes, the official noted.
There was no indication the Russian attacks were meant to coincide with Burns's visit. Russian media disclosed his visit to Ankara, in what has become a routine practice of publicizing Russian officials' meetings with the CIA director, who customarily keeps his travel schedule private.
Burns, a seasoned diplomat and former ambassador to Russia, went to Moscow last Novemberand met with top Kremlin officials, speaking by phone with President Vladimir Putin. Hecarried a letter from Biden to Putin andwarned the Russian president that should he invade Ukraine, the United States would impose massive consequences.
Burns has cautioned that officials must be on guard to Putin's threats to use tactical nuclear weapons. "We have to take very seriously [any] kind of threats given everything that's at stake," Burns said in an interview with CBS News's Norah O'Donnell in late September. "And, you know, the rhetoric that he and other senior Russian leaders have used is reckless and deeply irresponsible."
Burns added that U.S. intelligence agencies had not yet seen "any practical evidence" that Putin was moving closer to using nuclear weapons. That has been the case over the course of the war, with Putin making threats that officials say aren't reflected in signs that Russia is deploying the equipment and personnel necessary to use such weapons on the battlefield.
Tuesday's missile strikes on Kyiv followed a two-week lull, and initially many residents ignored them. When explosions reverberated around the city, people sought shelter in basements and corridors.
Pentagon press secretary Brig. Gen. Pat Ryder said that "Russian aircraft" had fired the missiles, noting that "for the duration of this campaign, Russia has used a mix of capabilities," including airborne, ground-based and sea-launched missiles, to target cities and civilian infrastructure.
On Monday, Zelensky visited Kherson, the sole regional capital that Russia had captured following its invasion in February. He declared to hundreds of people gathered in the central square that the city'sliberation marked "the beginning of the end of the war" and pledged that Ukrainian forces would drive Russia from the country entirely.
Liz Sly in Kyiv, Ukraine, and Karoun Demirjian contributed to this report.