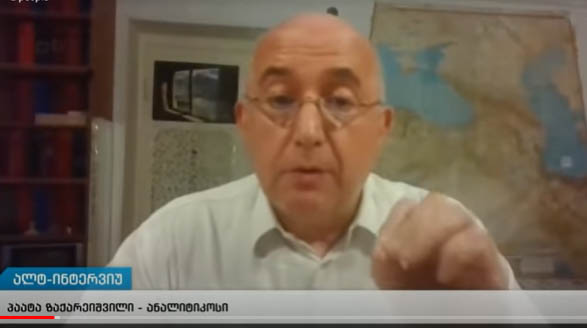 In a February 28 Altinfo TV program that began at 12 noon, a journalist asked former Minister of Reconciliation Paata Zakareishvili to evaluate Prime Minister Irakli Gharibashvili's speech in support of the war-torn Ukrainian population. Paata Zakareishvili Responded:
– It was a shame. No, it is better pronounced in Russian – ПОЗОР! –
ПОЗОР is an old Slavic word and means "spectacle", which later acquired another meaning: "someone's shameful, degrading condition that causes disgust, hatred".
I ask the society – with its build, thinking, speech, past life, to which the word shameful is more appropriate – Paata Zakareishvili or Irakli Gharibashvili? It is my deep conviction that, to put it in Old Slavic terms, Paata Zakareishvili looks disgraceful, and his ministry of reconciliation was not the shame of him, but of those who appointed him on this position. Bidzina Ivanishvili and Irakli Gharibashvili allowed it, and ПОЗОР was the appearance of Paata Zakareishvili, who could not speak Georgian, on behalf of the Georgian nation. Mr. Irakli, do you not feel embarrassed for bringing such a shameful creature to power during your rule?!
Your speech in support of the people of Ukraine involved in the war is really based on national principles, and I see that Georgia has a barely national-minded government that will no longer allow the ÏÎÇÎÐ that addressed you with the appointment of Paata Zakareishvili as Minister.
Grigol Oniani